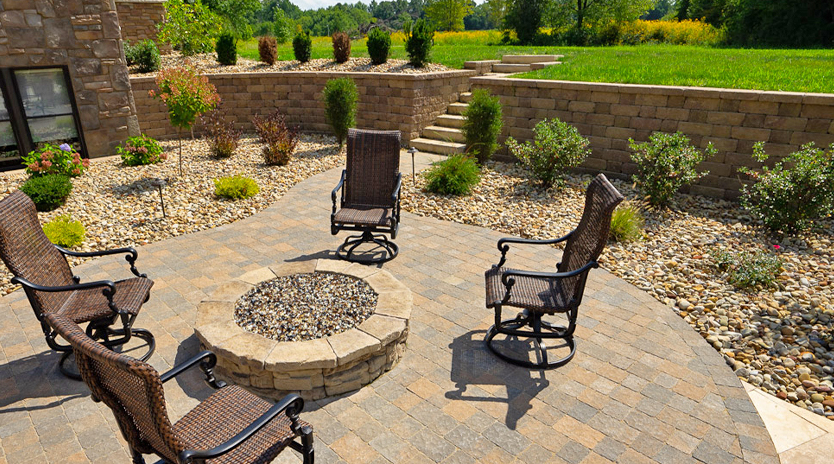 Welcome to Bull Mountain Outdoor Living & Construction, your trusted hardscape contractor in Rock Hill, SC! As experts in creating breathtaking outdoor spaces, we understand hardscape's vital role in transforming landscapes into enchanting retreats. In this blog, we'll explore the essential functions of hardscape in landscape design, showcasing how our craftsmanship at Bull Mountain brings beauty, structure, and functionality to your outdoor living area.
Hardscape is an integral component of landscape design that primarily encompasses the non-living, sturdy elements of a yard such as walkways, patios, decks, fences, and even outdoor kitchens. These elements are often constructed from hard-wearing materials like concrete, stone, wood, or metal. Hardscapes not only add to the aesthetic appeal of an outdoor space, but also contribute to its functionality, essentially forming the backbone around which the softer elements, like plants and flowers, are arranged.
When it comes to hardscaping, it's not simply about adding elements at random; there's an art and science to it. At Bull Mountain Outdoor Living & Construction, we strategically integrate these elements into your landscape with a keen eye for balance, proportion, and harmony. We carefully consider the existing layout, your needs and vision, as well as the architectural style of your home in our design process. The result is a cohesive, attractive outdoor space that enhances your home's curb appeal, increases usable living space, and offers a serene retreat where you can relax and entertain.
Defining Spaces and Enchanting Ambiance: One of the primary functions of hardscape in landscape design is defining spaces and setting your outdoor sanctuary's ambiance. At Bull Mountain, we skillfully craft patios, decks, and walkways that create distinct areas for dining, lounging, and entertaining. Our expertly laid pavers or elegant natural stone surfaces establish boundaries, guiding you through the landscape with a seamless flow.
Outdoor Living at its Finest: Outdoor living is at the heart of our hardscape designs. Imagine savoring warm evenings with loved ones on an exquisite patio, expertly constructed using premium materials like concrete pavers or natural stone. Bull Mountain transforms your backyard into the ultimate entertainment and relaxation spot, allowing you to relish nature's beauty while experiencing the comforts of home.
Elevation and Terracing: Embrace the natural contours of your property with our carefully planned decks, terraces, and steps. By skillfully incorporating elevation changes, we create multi-level spaces that add visual interest and optimize the use of uneven terrain. Our hardscape features blend seamlessly with the landscape, offering captivating vistas and a sense of tranquility.
Structural Support and Land Management: Hardscape elements serve practical functions beyond aesthetics. Our retaining walls, constructed from sturdy materials, provide essential structural support to your landscape, preventing soil erosion and stabilizing uneven areas. By preventing land movement, these walls ensure your property remains stable and safe for years to come.
Access and Connectivity: Navigating your outdoor space is a breeze with our thoughtfully designed walkways, pathways, and driveways. Bull Mountain ensures smooth connectivity throughout your landscape, allowing easy access to various areas. Our hardscape pathways guide you on a journey of exploration, connecting you with the wonders of nature in your own backyard.
Entertainment and Recreation: At Bull Mountain, your outdoor living area should be an oasis of enjoyment. That's why we use durable hardscape materials to incorporate outdoor kitchens, fire pits, and seating areas. These inviting spaces are perfect for gathering with family and friends, creating cherished memories that last a lifetime.
Visual Appeal that Lasts: The aesthetic appeal of hardscape features is undeniable. Our expert craftsmanship adds elegance and charm to your landscape, elevating its overall appearance. Whether it's a charming cobblestone walkway or a captivating water feature, Bull Mountain ensures that your hardscape becomes the centerpiece of your outdoor masterpiece.
Low Maintenance Solutions: We understand that your time is valuable. With Bull Mountain's hardscape designs, you'll enjoy areas that require minimal upkeep. Our paved surfaces, such as concrete and pavers, alleviate the need for constant maintenance, allowing you to focus on relaxing and enjoying your outdoor space.
As the premier hardscape contractor in Rock Hill, SC, Bull Mountain Outdoor Living & Construction takes pride in creating stunning landscapes that blend the perfect balance of hardscape and softscape elements. From defining spaces and providing structural support to elevating aesthetics and facilitating outdoor living, our hardscape designs are crafted with dedication, precision, and a passion for transforming your outdoor dreams into reality. Discover the endless possibilities of hardscape with Bull Mountain Outdoor Living & Construction, and let your landscape become an enchanting haven of beauty, functionality, and cherished moments.