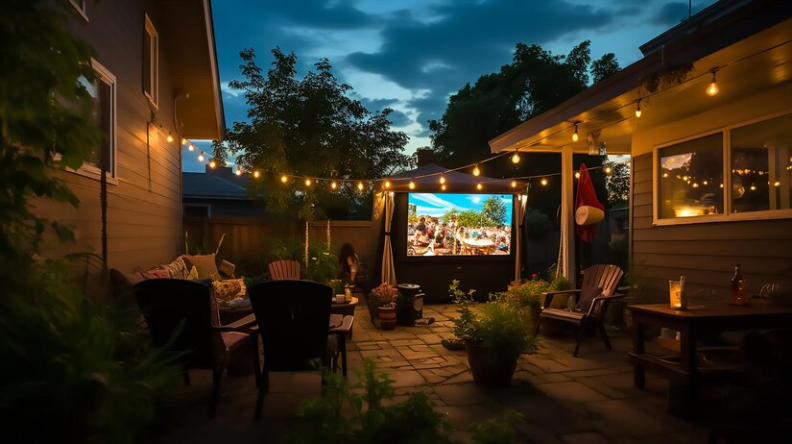 Creating an outdoor living space is more than just investing in furniture and fixtures. It's about transforming your backyard or patio into an oasis where you can unwind, entertain, and make lasting memories. From the choice of plants to the layout, every detail contributes to the overall ambiance and functionality of the space.
Whether you fancy a tranquil garden for meditation or a lively area for barbecues and game nights, your outdoor space can be customized to cater to your lifestyle and preferences. Invest in quality materials and work with professionals if necessary to ensure durability and aesthetic appeal. Remember, your outdoor living space is an extension of your home, so make it as comfortable and inviting as possible.
Bull Mountain Outdoor Living & Construction is your premier exterior remodeling company in Rock Hill, SC! As outdoor living enthusiasts, we take pride in crafting spaces that cater to your entertainment needs. In this blog, we'll explore a variety of outdoor entertainment zones that will transform your outdoor living space into an enchanting oasis, perfect for gatherings, relaxation, and cherished moments.
Culinary Delights: Outdoor Kitchen and Dining Zone

Indulge in the joy of outdoor cooking with a fully equipped kitchen. Imagine a sleek grilling station, a practical prep area, and ample storage for all your culinary tools. Complement this setup with a stylish dining area featuring a spacious table and comfortable seating, creating the perfect space for hosting memorable al fresco dinners.

Cozy Gathering Hub: Fire Pit Lounge

Experience the warmth and charm of a cozy fire pit lounge. Our expertly designed

fire pit

zone includes built-in seating adorned with plush cushions and decorative accents. This intimate setting sets the stage for storytelling and bonding moments, all under the enchanting glow of crackling flames.

Open-Air Cinematic Experience: Outdoor Movie Theater

Transform your backyard into a captivating outdoor movie theater. We'll install a large projection screen, comfortable seating, and soft lighting for an unforgettable cinematic experience. Host movie nights, sporting events, or gaming sessions, all while basking in the natural beauty surrounding you.

Serenity and Tranquility: Water Features Retreat

Discover serenity with a tranquil

water feature

zone. Our elegantly designed waterfalls, fountains, or reflective ponds create a soothing atmosphere, providing a haven for relaxation and meditation amidst nature's calming presence.

Active Fun and Play: Sport Court Extravaganza

For the sports enthusiasts, our sport court zone offers a custom space for basketball, tennis, pickleball, and more. Enjoy friendly competitions and active play with friends and family, fostering a lively and engaging atmosphere.

Al Fresco Entertainment: Outdoor Bar and Lounge

Unwind with your favorite drink at an outdoor bar and lounge, customized to your preferences. Our designs include built-in refrigeration, countertops, and seating, creating the ideal spot for casual gatherings and happy hours.

Embrace Tranquility: Relaxing Hammock Nook

Unwind and rejuvenate in a secluded hammock nook, thoughtfully placed amidst your landscape. This cozy oasis invites you to escape the hustle and bustle, offering the ultimate relaxation spot.

Poolside Paradise

Transform your backyard

into a poolside paradise with luxurious lounge areas, sun

decks

, and shaded cabanas. A poolside entertainment zone offers endless opportunities for relaxation and recreation.

Fun for All Ages: Game and Play Zone

For families and friends, a game and play zone promises entertainment for everyone. From ping pong tables to horseshoe pits and bean bag toss games, this zone guarantees an exciting and inclusive atmosphere.

Creative Corner: Art and Music Zone

Infuse your outdoor space with creativity in an art and music corner. Set up easels for painting, musical instruments for impromptu jam sessions, and comfortable seating to inspire artistic expression.
At Bull Mountain Outdoor Living & Construction, we take great pleasure in crafting captivating outdoor entertainment zones that elevate your outdoor living space to new heights. From outdoor kitchens and cozy fire pit lounges to outdoor movie theaters and serene water features, our expert team will design and construct the perfect entertainment zones tailored to your preferences. Enhance your outdoor experience with these diverse entertainment options, and let Bull Mountain transform your backyard into an oasis of entertainment and relaxation, where cherished memories are made and shared with loved ones.